Bridging excellence in WordPress development: IMADO,
Your Bergen WordPress development

partner

Unlock Your Online Success with Imado - Your Trusted WordPress Development Partner in Bergen

Are you in search of a top-tier WordPress development partner in Bergen to create a website that not only looks amazing but also functions seamlessly? Look no further than Imado, a leading provider of web design and development solutions. With a team of experienced professionals, we are committed to delivering exceptional websites tailored to meet your unique requirements.

At Imado, we understand the importance of having a website that combines appealing visuals with user-friendliness. That's why we use cutting-edge technologies, including WordPress, to design websites that are not just visually pleasing but also highly functional. Our WordPress development experts have the skills to build custom websites that are optimized for search engines, mobile devices, and ease of use.

Whether you're launching a new website or giving an existing one a makeover, our team is here to assist you. Our digital agency offers a comprehensive range of services, including WordPress website development, custom plugin creation, theme customization, and more. We collaborate closely with our clients to understand their unique goals and requirements, using this information to create a tailored website that precisely aligns with their needs.

Our WordPress development services are designed to cater to businesses of all sizes and industries. Whether you're a small business looking to establish a strong online presence or a large corporation aiming to enhance your digital presence, our team has the expertise and experience to help you achieve your objectives.

At Imado, we firmly believe that a website should be more than just a digital brochure. It should serve as a powerful tool for connecting with your audience, growing your business, and achieving your goals. That's why we offer a range of digital agency services, including search engine optimization (SEO), pay-per-click advertising, and social media management. We work closely with you to create a comprehensive digital marketing strategy that enables you to reach your target audience and achieve your desired results.

In addition to our web design and development solutions, we provide ongoing support and maintenance services. Our expert team ensures that your website stays up-to-date and operates at its peak performance, allowing you to focus on running your business.

If you're in search of a reliable and reputable WordPress development partner in Bergen, Imado is the answer. Reach out to us today to learn more about our services and how we can help you create a website that truly reflects your brand and accomplishes your goals.
Featured
clients
partners
We provide our partners with full outsourcing of design and programming services, offering a flexible model of cooperation.






Latest projects
Charmiere
We helped the client build a store with a strong emphasis on creativity. The project was awarded by CSSWINNER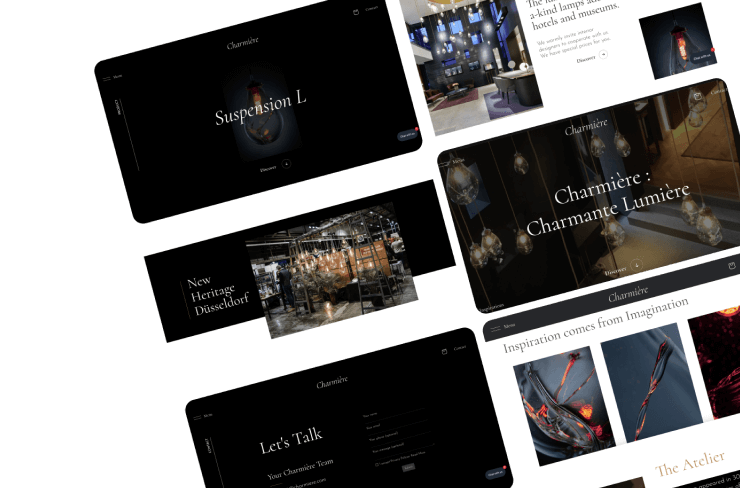 Spadiora
Our team helped rebuild an outdated site, integrate new custom features, and improve page load speeds to improve user experience and increase conversion rates.
Let's make something truly extraordinary.
Together
Our goal is simple: to understand our clients' vision while building a website that gets noticed.
Get started