Ordering development is a stressful, expensive time sink full of unknowns...
Browse endless portfolios
Check availability

Weirdo check

Interviews
Share scope of work
See if there's a fit
Repeat, whilst losing sanity
You deserve a proven development partner that gets you where you want to be.
Deploy new project*
*Don't press this
Quality

Figma to WordPress

conversion

We will code your Figma design into a Custom WordPress Theme. Whether it's a landing page or an e-commerce portal, our experienced developers use Advanced Custom Field and Custom Post Types to build a website that you can easily manage from the administration panel.

Our team of experts leverages custom features and animations. Quality assurance across multiple browsers and devices is included in all our quotes. We always delivery projects on time and within budget.
Custom build to you needs
We build bespoke websites without the use of page builders. Our code is 100% handcrafted and thoughtful.
Minimal plugins
Plugins are easy to use but difficult to remove. Websites with dozens of plugins can become a ticking time bomb. If you deactivate one, the website will cease to function. We use standard plugins when they make sense (e.g. Contact form).
Easy to edit
We pay attention to make the page as easy to edit as a word document. You won't need a programmer to make changes.
How
Gutenberg

editor works?

Gutenberg editor is the default editor in WordPress, which was introduced in WordPress version 5.0. It is a block-based editor that allows users to create content by combining different blocks of text, images, videos, and other multimedia elements.

One of the advantages of the Gutenberg editor is that it allows you to create reusable blocks. This means that you can save a block that you have created and use it again in other posts or pages.

Gutenberg editor in WordPress works by providing a user-friendly interface that allows users to create and edit content using different blocks. The editor is designed to be easy to use and flexible, allowing users to customize their content as per their requirements.

Our developers will transform your Figma project into reusable Gutenberg blocks, so you will be able to easily expand your website with new subpages.
Featured
clients
partners
We provide our partners with full outsourcing of design and programming services, offering a flexible model of cooperation.






Figma to WordPress Conversion
What to expect
When you hire our expert team to convert your Figma Design to new WordPress website, you're guaranteed industry-leading customer service and results that will propel your brand to the next level.
Quality and time-saving
We will complete the Figma to WordPress conversion process on time and within budget. We guarantee a final product that delivers usability, dynamic functionality and SEO success.
Focus on optimization
We take a performance-first approach at every stage of our Figma to WordPress conversion service. We deliver finished websites that rank highly with major search engines and deliver great results in terms of page loading metrics.
Maintenance service
We understand that things can go wrong with websites without warning. And when that happens, the disruption can lead to lost sales and damage to your brand. That's why we offer a discounted maintenance service for the year following your Figma to WP conversion.
WordPress expertise
Our developers are highly skilled and experienced in delivering stunning WordPress themes. We know all the development best practices and community standards, so you're assured of an online presence that delivers results.
Free support
We take great pride in helping our clients to make the very most of their online presence. We commit to unlimited fixes and corrections for 60 days — at no extra charge. It's our mission to give you the perfect WordPress website.
Cross-browser compatibility
Your website will be fully functional across all major browsers, ensuring ease of use and accessibility
Last 3 ver.

Last 3 ver.

Last 2 ver.
Figma to WordPress
Any questions?
Send us preview of your designs. We will send you a quote as soon as possible by e-mail.
We can't directly export Figma to WordPress. We can convert your Figma design to a WordPress theme and create a functional website. Figma, gives designers the ability to create a website or online store design. The finished design, our experienced developers need to cut into the appropriate HTML/CSS code and integrate into the WordPress CMS. The result is a fully functional website that you can easily manage.
This depends on a number of factors, including the complexity of the project, the deadline and the required technology stack. Our rates for WordPress development start at €35/hour.
Our head office is located in Poland, EU. We have a remote-first approach, so we have a lot of experience in remote cooperation.
We mostly create projects as white-label partners for bigger agencies from around the world, so why not omit the middleman and enjoy better pricing with same quality?
Examples of Figma to WordPress projects
The Kernel
We helped a client redesign their current site, improving loading speed and backend features. We built a custom theme using ACF Blocks. We added eCommerce, allowing the customer to sell products.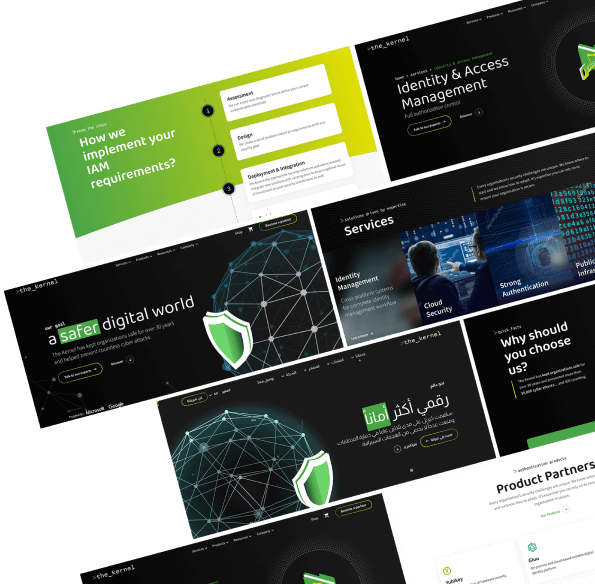 Spadiora
Our team helped rebuild an outdated site, integrate new custom features, and improve page load speeds to improve user experience and increase conversion rates.
Let's convert your Figma design into a user-friendly WordPress.
Together
Our objective is clear: grasp our clients' aspirations and create a web presence that commands attention. A website that stands out and leaves a lasting impression.
Let's get started