Bridging excellence in WordPress development: IMADO,
Your Swiss WordPress partner
In today's ever-changing online world, having a strong presence on the internet is crucial for business success. Your digital identity starts with a well-made website, and choosing the right partner can make a big difference. Meet IMADO, your top choice for WordPress development in Geneva. We specialize in creating and supporting websites, making it easier for businesses to establish and grow their online presence.

At IMADO, we're not just users of WordPress; we're passionate about it. Our team of experts, including developers, designers, and digital marketers, is dedicated to providing a wide range of services designed to help your business reach its full potential online. We can help you with everything from planning and creating your website to keeping it running smoothly over time.

WordPress is known for being flexible and suitable for businesses of all sizes and types. Whether you're a small startup, a large company, or somewhere in between, IMADO can use WordPress to meet your specific needs. We offer many options for customization, so your website can truly reflect your brand, style, and values.

IMADO is more than just a web development company; we also offer a range of digital marketing services to help your business succeed online. This includes things like improving your website's visibility on search engines (SEO), marketing on social media, and creating strategic advertisements. We use data-driven insights to make smart decisions about your online marketing efforts.

At IMADO, we understand how important technology is for businesses today. That's why we're committed to helping businesses bridge the gap between technology and success. Our experienced team has the skills and know-how to help businesses of all sizes reach their online goals and make sure the results align with each client's unique needs.

Whether you're looking to create a new online presence, update your current website, or improve your digital marketing, IMADO is here to support you. As the leading WordPress development agency in Geneva, we have the expertise and the resources you need for online success. Contact us today, and discover how IMADO can help you turn your online aspirations into real achievements.
Featured
clients
partners
We provide our partners with full outsourcing of design and programming services, offering a flexible model of cooperation.






Our project
Valon.shop
Our team designed and implemented an online furniture store.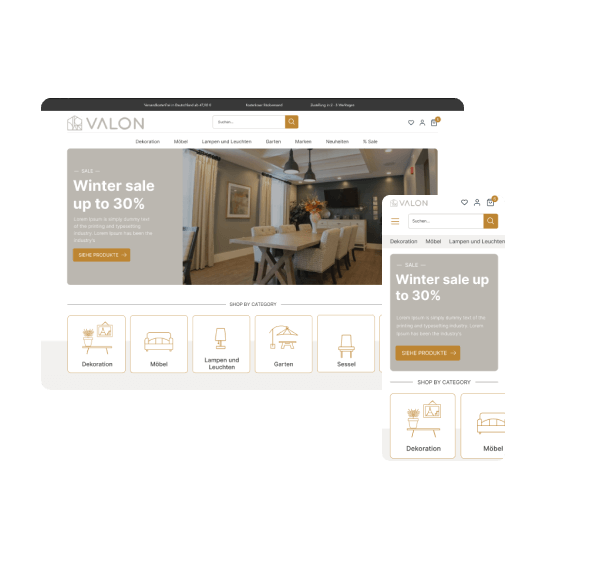 Let's make something truly extraordinary.
Together
Our goal is simple: to understand our clients' vision while building a website that gets noticed.
Get started