Bridging excellence in WordPress development: IMADO,
Your Swiss WordPress partner
In today's ever-evolving digital landscape, forging a robust online presence stands as the linchpin of business prosperity. A meticulously crafted website forms the bedrock of your digital identity, and the choice of the right partner can be a transformative endeavor. Allow us to introduce IMADO, your eminent destination for WordPress development in Saint Gallen. We are at the forefront of delivering comprehensive web design and development services, enabling businesses to not only establish but also cultivate their digital footprint with unwavering support.

IMADO's commitment to WordPress transcends mere tool usage; it's a deep-seated dedication. Our proficient team of developers, designers, and digital marketing experts is wholeheartedly devoted to offering a rich spectrum of services, intricately tailored to unshackle your business's full online potential. From the inception of ideas to web development and seamless support and maintenance, IMADO is equipped with the prowess to propel your business toward digital eminence.

WordPress, celebrated for its unmatched adaptability, caters to businesses of all dimensions and spans diverse industries. Whether you're nurturing a nascent startup, steering a sprawling enterprise, or occupying a niche in between, IMADO artfully leverages WordPress to cater to your distinctive business requisites. Empowered by a diverse array of customization options, we empower businesses to construct a unique digital presence that authentically mirrors their brand, style, and ethos.

As a holistic digital agency, IMADO's expertise doesn't stop at web development. We extend a comprehensive suite of digital marketing services, meticulously designed to foster growth and triumph in the expansive online domain. Our offerings span a wide spectrum, encompassing everything from search engine optimization (SEO) to adept social media marketing and strategic advertising. IMADO acts as your guiding light in the intricate digital wilderness, steering your business towards its target audience while facilitating well-informed decisions through data-driven insights.

At IMADO, we profoundly appreciate the pivotal role of technology in today's business realm. We stand unwaveringly committed to helping businesses bridge the chasm between technology and triumph. Our seasoned experts bring to the table the skillset and experience necessary to navigate businesses of all sizes toward their online aspirations, ensuring that the outcomes achieved are intricately aligned with each client's unique requirements.

Whether you're embarking on a quest to establish a fresh digital presence, breathe new life into an existing website, or elevate your digital marketing endeavors, IMADO stands poised to be your steadfast ally. As the trailblazing WordPress development agency in Saint Gallen, we offer the expertise and assistance essential for your online triumph. Reach out to us today, and let IMADO be your conduit to converting your online aspirations into tangible success.
Featured
clients
partners
We provide our partners with full outsourcing of design and programming services, offering a flexible model of cooperation.






Their communication was exceptional despite the time difference.
They gave us a professional website that's easy to use.."
Their speed and communication were impressive.
IMADO team were transparent about the whole process and pleasant to deal with.
We were impressed by their attention to detail.
Our project
Valon.shop
Our team designed and implemented an online furniture store.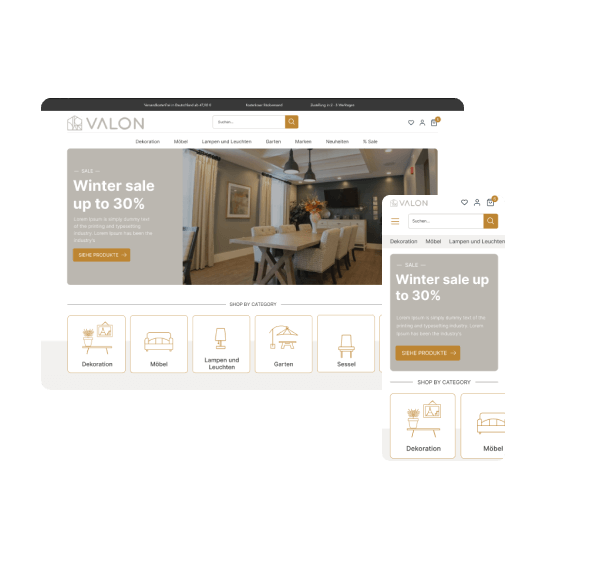 Let's make something truly extraordinary.
Together
Our goal is simple: to understand our clients' vision while building a website that gets noticed.
Get started